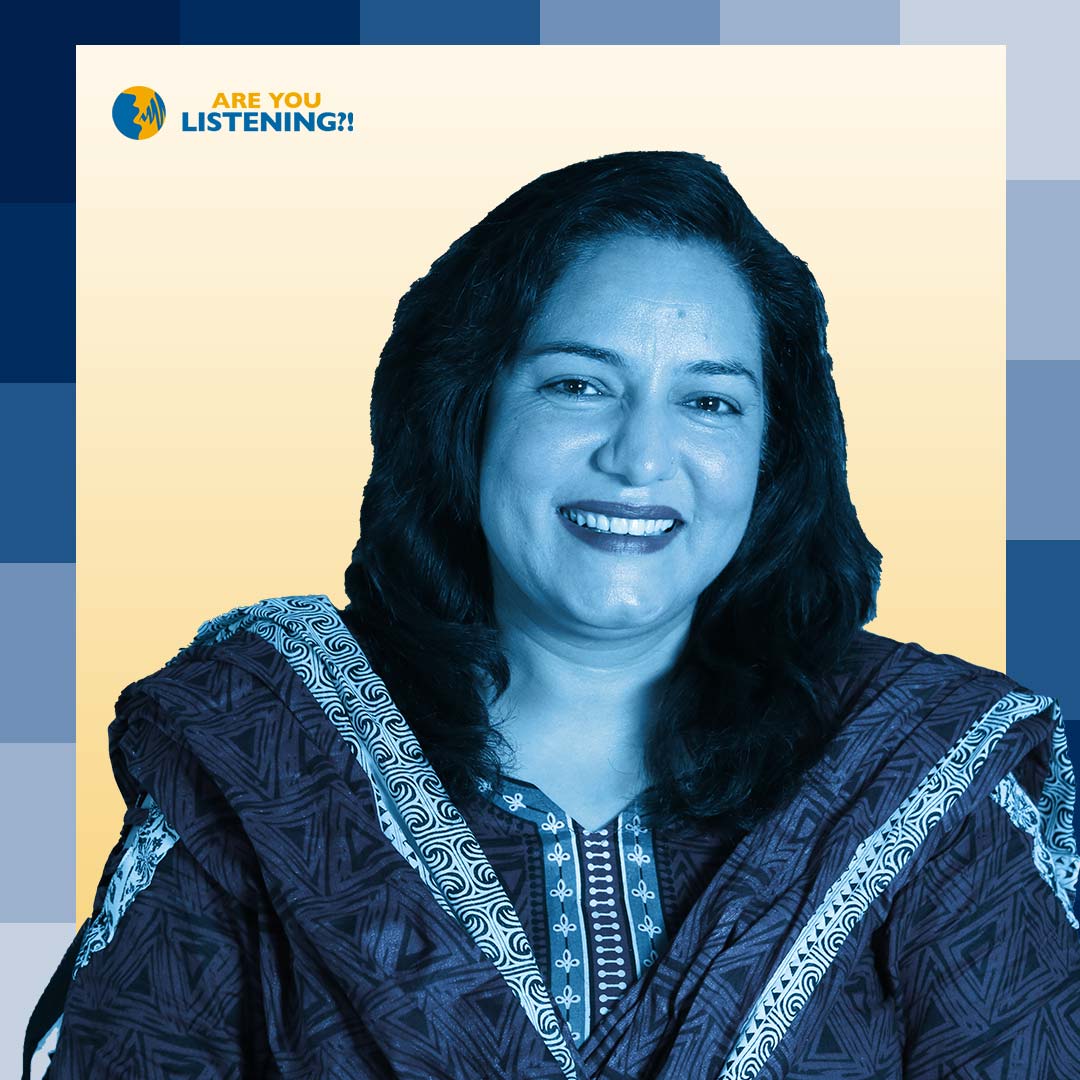 If women are given leadership skills, they have this innate capacity to lead; they only need nurturing and guidance as I saw first-hand how women mobilised themselves during the pandemic to help their communities, all by themselves
For someone who has been actively working for women's rights in Pakistan for 18 years, Bedari is not just an organisation she works for, and it's part of Anbreen's life. Anbreen started to work at MTBA partner, Bedari as a volunteer back in 1999. There was no turning back for her, and she continued to work in numerous capacities with Bedari and other organisations advocating for women rights in Pakistan. Today, Anbreen serves as the Executive Director of Bedari.
Having spent her childhood in a rural district, Anbreen knows that women and girls across Pakistan do not have fair and equal access to the law, nor are they aware of how to protect their rights. This knowledge has guided Anbreen's work over the past many years. 
It always makes Anbreen happy when she talks with a girl who not only has stopped her early marriage but will continue her education. Often, mothers share with Anbreen how they now believe marrying their daughters at an early age is wrong, and they will ensure no one in their family is married before the age of 18. ''Just seeing the smiles on these young girls, who were once about to be married are now hopeful about their future is a testament that I have made a difference," she said. 
With COVID-19, however, everything about Anbreen's work changed. The pandemic has exacerbated underlying gender and social inequalities in Pakistan. COVID-19 has put millions of girls at risk of early child marriages due to extended lockdowns: girls are at home, out of school that acted as essential safety nets, and cut off from essential services. The lockdown also pushed many households deep into poverty and caused unemployment to rise. This forced many families to discuss their daughters' marriages, irrespective of their age, to ease the economic hardship by transferring this 'burden' to her husband's family.
The lockdown prevented many girls from accessing education entirely. "In areas where we are working with Oxfam, girls weren't able to access online classes as they lack two fundamentals of being connected online – smartphones and the internet. This meant these girls were completely cut off from schools," says Anbreen, highlighting the impact of Covid-19 on girls in Pakistan. A lesson from the pandemic that Anbreen and Bedari learned was that providing girls with smartphones or internet was a taboo in their communities. "We wanted to give smartphones to the girls we worked with so that they can continue learning through online classes. However, in rural areas, many frowned upon the fact that girls were using smartphones. In the future, we will be working to change the mindset of the communities, to create an environment where we can empower girls to use modern means of communications without any barriers," Anbreen explained. 
For the girls that did have means to communicate, Anbreen remembered: "We were getting calls from the girls we were working with during the lockdowns. They shared with us how they felt, what they were facing in terms of gender-based violence or discrimination and what they feared. They shared the challenges they faced and how they dealt with them." "By empowering these girls to speak up, by showing them what's wrong and what's right, they can exercise their agency to protect their rights since they now knew how to contact relevant stakeholders, law providers and child protection committees," she added. 
Anbreen recalled how during the extended lockdown that the girls they were working with could support their families. To make girls' commutes to school easier, Oxfam Novib and Bedari had provided girls with bicycles that they can ride every day to attend their classes. During lockdowns, these girls were now using their bikes to get groceries. Additionally, with the safeguarding and prevention training sessions held during the lockdown, these girls knew how to protect themselves and their families from Covid-19.
While in lockdown, women and girls were bound to their homes. They were not only cut off from their schools and other essential services, but they were also inhibited from reaching out to policymakers. Anbreen recalls that most of the shelter homes were closed and the Government had engaged the local police to ensure the citizens were following the state-issued standard operating procedures and lockdown rules, leaving girls vulnerable to gender-based violence. Anbreen said, "I don't think the Government is to blame for what is happening to girls during this pandemic. COVID-19 is a unique situation and to stop its spread, they had to implement lockdowns and ensure social distancing, but it's important we don't forget the other side of this pandemic, its effect on girls."
"Most of the girls we worked with were pushed into isolation as they were stuck at home during the lockdown. During this time, we came up with an innovative approach to bring together women members of the Provincial Assembly (MPAs) to meet the girls we work with. We identified six members of Punjab Provincial Assembly, both from the ruling political party and the opposition and took them to the field, to meet the girls so that they can listen and learn what challenges and barriers they were facing during the pandemic.'' 
These women policymakers were overwhelmed by the stories they heard from the young girls they met. For them, it was an eye-opening experience as they listened to the girls and the challenges they were facing during the pandemic induced lockdowns. They learned what these girls thought about them, those that have the power to shape policies and laws. The girls talked about early child marriages and why there should be laws to ensure that girls are married only when they are of legal age of 18. 
They also talked about their futures and their economic empowerment. For most of these girls, after they complete their matriculation, they sit at home, waiting to get married. They asked why there aren't any facilities to teach them ways to make money. 
Some girls always talked about gender-based violence, but they are still shy to talk about it openly. 
Anbreen explained, "One of the girls had complained to them her school was in dire need of improvement since it lacked separate washrooms for girls. One of the women parliamentarians refused to go to the hotel and went straight to the 'Deputy Commissioner Office' where she adamantly demanded to see budget allocated to the girl's school. What's more, is that she told the staff that not only she will be following up on whether that particular school has seen improvements but will also raise the issue in the Provincial Assembly."
The pandemic is also changing the way organisations like Bedari have been working on the field. The foremost challenge was funding. Most of the financing that Bedari had was for specific activities that had to be carried out during the fiscal year. Some of it was diverted towards COVID-19 response. The second challenge that Anbreen faced was training her field team for the pandemic. The "new normal" which includes social distancing and wearing face masks to stop the spread of the virus, was something Anbreen wanted her team to follow when they go back to the field after the lockdown. This also created logistic challenges since four people couldn't use a single vehicle as they did previously before COVID-19. 
While the pandemic has indeed bought many challenges with it, Anbreen realised that there were some positive effects of it as well.
Firstly, there was a change in perception as typically, men do not consider care work as a huge responsibility. During the lockdown, many men saw how burdened women and girls are with domestic care work and realised that it left quite a toll on them.
Another positive effect of the pandemic was how women and girls perceive technology. Some women that are part of the economic empowerment interventions started to create online businesses. For them, it is still hard to have their shop or place of business as it is considered a man's work. Anbreen realised that in these stressful times, she and her team came up with innovative approaches on how to help women and girls facing gender-based violence as some of them were living in isolation with their abusers. The Bedari team was able to assist these girls and women, sharing how they can keep themselves safe and offer advice.
Lastly, local volunteers and social mobilisers were able to engage local philanthropists to procure critical rations. They also worked in mapping their communities to identify families that needed these supplies most. 
"If women are given leadership skills, they have this innate capacity to lead; they only need nurturing and guidance as I saw first-hand how women mobilised themselves during the pandemic to help their communities, all by themselves", Anbreen said.
COVID-19 pandemic is not, as Anbreen puts it, gender blind. Any response by the Government or any organisation towards it should consider the impact it has on women and girls. "There have been incidences of child sexual abuse, harassment and other forms of gender-based violence. I think that any response or plan by the Government or any organisation should include this aspect into their response, along with strategies for economic empowerment."
With the lockdown easing up, Anbreen looks towards the communities she is working with to think differently when it comes to women economic empowerment. Girls and women that become engaged in economic activities can share the burden of running a household, and when they do this, they reduce the chances of getting married early as well. During the lockdown, many families saw rising unemployment and deepening poverty. At this stage, there is a greater chance of women economic empowerment to be accepted by the community. 
For the future, Anbreen is hopeful that the pandemic will leave lessons for the Government as she expects that in future, a gender-responsive humanitarian response is designed to ensure women and girls are protected from the debilitating effects of crisis like Covid-19.
As someone who runs an organisation like Bedari, support from international donors and organisations not only in providing funds, but also to help in sharing knowledge and best practices that she can implement here in Pakistan. 
Story and picture: Zia Ul Abrar