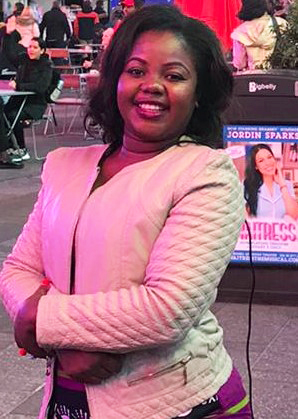 Takondwa is a Program Manager with the Girl Empowerment Network (GENET), a More Than Brides Alliance (MTBA) partner in Malawi. She has been working with MTBA since it started and has a wealth of experience in working on gender issues. She is very passionate about her work said, "I feel that when women are given the right skills and capacity they can change their lives."
When COVID-19 hit in March, schools were closed, meetings were banned, and traveling was not allowed. Takondwa said she felt helpless. Interpersonal communication is the key to GENET's strategy. Usually, Takondwa's work involves a lot of face-to-face contact with girls: monitoring, talking, and encouraging them. Takondwa shared how the pandemic has affected girls' access to education and sexual and reproductive health and rights (SRHR). She also explains what still must change: access to education and SRHR needs to be guaranteed, child marriage programming needs to be scaled up, and more funding on the grassroots level is required.
Education
Takondwa remarked when the lockdown first that it was difficult for girls because schools closed suddenly and there was no information about when they would open again. This enabled a lot of misinformation to spread about the future of the schools and some believed they would never open again. Girls began to reconsider their education and their future and began to make other plans. Since September, schools have reopened, but many girls have not returned. For those that have managed to get back to school, they have had little time to prepare for important exams that determine the future trajectory of their education.
SRHR
The ban on travel during the height of the pandemic decreased the availability of contraceptives and menstrual health products. Lockdown measures and stay-at-home orders disrupted supply chains, and girls became less mobile, thus decreasing their access to SRHR products and information. Takondwa explained how girls often access contraceptives and menstrual health products while going to school or girls clubs. This enables girls to collect these products freely and avoid their family's disapproval. However,with the lockdown, chances for girls to leave the house were much more limited. Takondwa believes that the lack of contraceptiveslikely contributed to the increase in teenage pregnancies. While things have started to improve since the lockdown measures were lifted in September, there will be long-term negative effects on girls lives from teenage pregnancy. Many pregnant girls will never return to school, and early pregnancy also causes health complications for girls, it is even the leading cause of death among girlsaged 15-19.
Adapting ways of working: The limitations caused COVID-19 responses required GENET to adapt their ways of working. At first, Takondwa explained how this was challenging because GENET's strategy is based on interpersonal communication and community mobilization. It was also difficult to use digital technology with the communities GENET works with because many do not have access to the internet. GENET had to evaluate new ways of connecting and finding pathways to make their work more accessible. GENET began to produce new physical materials, like comic books for young girls so they could still engage with these issues on their own. Takondwa says that they will continue working on making their resources more user-friendly and easy for girls to use themselves without support or supervision. Additionally, more advocacy needs to be done for improved digital access.
What needs to change?
Takondwa told us how some school lessons were given on the radio, but they were not very structured. Furthermore, access to radio for women and girls is still challenging in rural areas where it is still used predominantly by men. Students need to be able to access education without physically being there.
COVID-19 showed that sometimes interventions rely too much on external structures for delivering adolescent health. Takondwa described how community-based agents were initially introduced to provide SRHR information and services due to some resistance from parents. As a result, the community-based agents bypassed the parents. However, when the lockdown began, schools, clubs, and community-based agents could no longer reach girls, leaving them with little access SRHR information and products. The pandemic demonstrated how the strategy to bypass parents and reliance on external structures needs to be adapted and parents need to be more engaged. Access to SRHR needs to be guaranteed no matter the circumstances.
Takondwa told us that programming needs continue to emphasizing girl empowerment and resilience and equip girls with the skills and motivation to make their own decisions. Takondwa also believes that child marriage interventions need to be scaled up. She observed that girls who participated in MTBA girls clubs were generally able to avoid child marriage and early pregnancy during the lockdown. However, this was not the same for girls outside of the clubs. Takondwa said, "Even if the intervention is so good… they are just a drop in the ocean." Child marriage interventions need to scaled up so they can reach more girls.
Takondwa said that "For child marriage to really see an impact at a national level, we need to go to more areas." To accomplish this,more funding is needed. Takondwa explained that governments, international organizations, and donor governments need to continue funding local NGOs and continue funding interventions on the grassroots level.