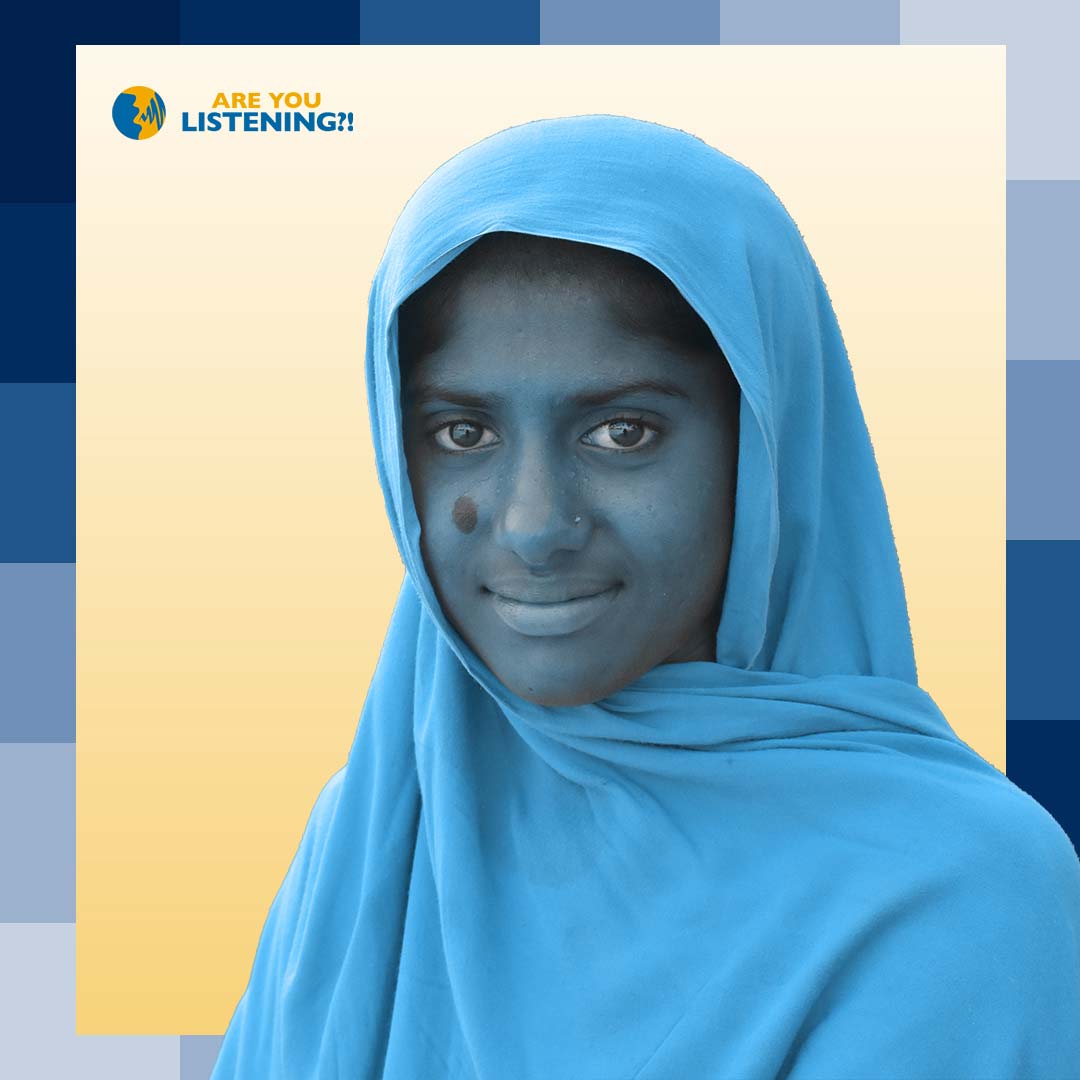 Uzma Bibi is an eager, school going, 14-year-old girl from Pakistan. As the eldest sibling, she takes on a fair amount of responsibilities in her household. Her mother is a housewife and her father is a daily wage laborer.
Uzma's school is two kilometers from her village and it takes half an hour to get there by foot. She was often fined for being late; an expense that was difficult to manage with her family's limited household income. Sometimes the class had already started when Uzma arrived, meaning she was also missing out on lessons. To overcome this problem, Uzma received a cycle from MTBA partner, Bedari. The bicycle significantly reduced her commute to school. Uzma takes a lot of pride in her cycle, saying that ''it is silver and blue and has these very special handles.'' The bicycle has given Uzma mobility in a village where most girls are restricted to domestic settings.
People in the village used to talk about Uzma negatively because they saw her and her bicycle as challenging social values and theywere scared she might inspire other girls to do the same. Uzma said that people told her father: "First you send her to school, and now you send her to school on a bicycle.'' Initially, Uzma's father agreed with them. She explained how he used to get angry and say that it is not respectful for her to go to school on a bicycle because she is a girl. "I tried to make my father understand, I said you are also only a laborer. How will you cover the cost of my transport and school fines when I am late?" Uzma was able to convince her father and now she said, "he tells me it is okay for me to cycle to school as I do not have time and money to pay for fines if I am late.''
After COVID-19 forced a lockdown in Pakistan, Uzma's school was closed and she was restricted to her household to help her mother with her domestic chores. Due to limitations on economic activity caused by the virus, her father also lost his means of income, which placed a lot of financial stress on their household. Uzma explained how the entire village has been under a lot of distress. While no one in the village has contracted the virus, nearly everyone dependent on daily wage jobs has lost their means of income. People are restricted to their homes; schools are closed, and there is an atmosphere of despair in the whole village.
Due to the closure of her school and increased difficulty financial difficulties, Uzma's father decided to arrange for her marriage with an older cousin who is also still a student and does not have a means of income either. Uzma protested this marriage from the beginning and said she wanted to continue her education. Her paternal uncle came to her aid and tried to convince her father to delay the marriage, reasoning that both were too young to be married, and it is also not feasible to hold a wedding during the pandemic. When representatives from MTBA partner, Bedari, found out, they came to Uzma's house to talk to her father. They had a meeting with concerned relatives to shed light on the adverse effects of marrying girls at a young age. After much persuasion, her father decided to delay the wedding. ''It was very difficult to convince my father, but eventually he agreed. They made him understand that it is not smart to marry off such a young girl," Uzma explained.
Uzma is a good student and wants to pursue her education further once her classes resume. She wants to go to a university in the city so she can become a doctor and come back to her village and open a clinic to help her community. She only wants to get married once she is financially independent.
Uzma continues to ride her bicycle in her village, using it to fetch groceries and run other errands. She has also inspired other girls in the village. Her cousin and neighbor have both requested bicycles, so they can commute to school and enjoy the same freedom and mobility as Uzma. ''If all of us girls get our own bicycles, then we will ride them and go to school together'' Uzma rejoices, hoping for a future where girls have greater autonomy over their mobility, even if it means just being able to ride a bicycle to their school.
Story and picture: Zia Ul Abrar