The Learning Exchange Facility
What is the Learning Exchange Facility?
As part of the More Than Brides Alliance learning project, the Learning Spark Fund is a participatory grant mechanism designed to stimulate learning as broadly and creatively as possible on the theme of adolescent girl sexuality and child marriage. Grant windows support virtual or face-to-face learning exchanges within and across our nine partner countries: India, Pakistan, Bangladesh, Nepal, Mali, Niger, Malawi, Uganda and Ethiopia.
Figure 1 illustrates that putting the Learning Exchange Facility (LEF) strategy into practice involved a design and planning phase and an implementation phase in which we issued three grant calls.
The LEF is a knowledge sharing and generation strategy. The main objective is to connect community members and practitioners in the field of child marriage around a core question and facilitate discussion and learning from one another for improvements in child marriage interventions, based on experience.
Objective and Purpose
A key purpose of the LEF is to:
triangulate knowledge from the literature review, practice surveys and youth-led research strategies, for verification, deepening and alternative viewpoints, debates and propositions

provide content and leadership for the learning market at the International Learning Event and

promote the uptake and use of effective knowledge exchange techniques, through the provision of guidance and standards to grant holders.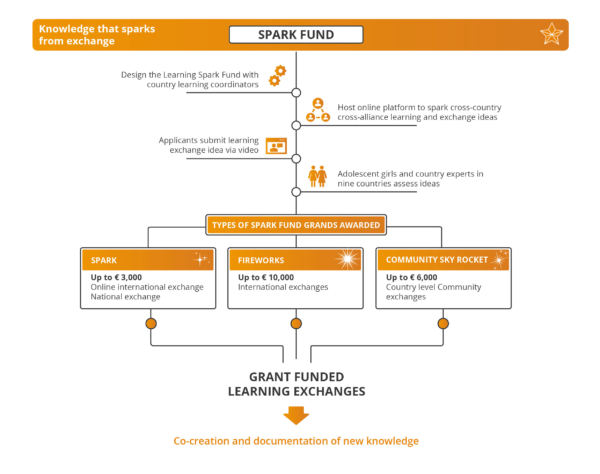 Unique contributions to knowledge
The learning exchange facility took a methodical approach to tapping into implicit knowledge on child marriage. We called to attention knowledge that is embedded or hidden in the minds and encounters of people that live the experience of child marriage – including girls, communities and the work experience of practitioners.
A multiple knowledge approach is also central. The value and complementarity of knowledge held by community members and practitioners, across four child marriage alliances and from nine countries, in Africa and Asia, were emphasized. Knowledge was not vetted or validated against a dominant knowledge system or reference point. To illustrate, learning exchange topics were known to offer a counter-narrative to that of the dominant and northern description of child marriage and its linkages to adolescent sexuality.
A knowledge generation component is integral to LEF. Participants followed a four-step process. They 1] started with an existing set of information, 2] shared this with one another and then 3] engaged in sense-making – bringing together collective knowledge for the 4] creation of new knowledge – that which did not exist before.
Tools
To achieve these objectives and aim, LEF made use of a small grant mechanism, dubbed, the Learning Spark Fund. This grantmaking approach promoted a response to three grant calls (Community Skyrocket, Fireworks and Spark) from eligible organizations interested in competing for funds. The Spark Fund make use of four tools for fostering learning exchanges:
A participatory grantmaking approach that enables grant application review, scoring and award, to be taken by those closest to the issues – "national experts" and adolescent girls.
A platform (Slack) that enables online information sharing and networking across geographic and organizational differences, language differences and time zones, supporting those interested in participating in a learning exchange to be informed.
Technical and methodological back up that enables support in framing learning questions and refining participatory learning exchange techniques
A reporting template that enables the well-organized capture and synthesis of learning and recommendations for improving practice.
Grant windows
There were three grant windows: Community Skyrocket, Spark and Fireworks.
The first grant window, called 'Community Skyrocket' supported bottom-up learning exchanges among development professionals and community members. Rather than assuming that child marriage programmes have a monopoly on knowledge and experience on how change happens, we believe that adolescent girls and other community actors, such as community-based organizations, religious and traditional leaders and families have valuable knowledge about addressing adolescent girl sexuality and dismantling child marriage.
The objective of Community Skyrocket was for practitioners to exchange with communities. They listened to their knowledge, strategy, and experiences and reflected with them on what this can mean for improving the design, implementation, and advocacy of development interventions. In other words, the Community Skyrocket grants offered organizations and communities the chance to come together around these issues and questions that excite them in exploring the links between adolescent sexuality and child marriage.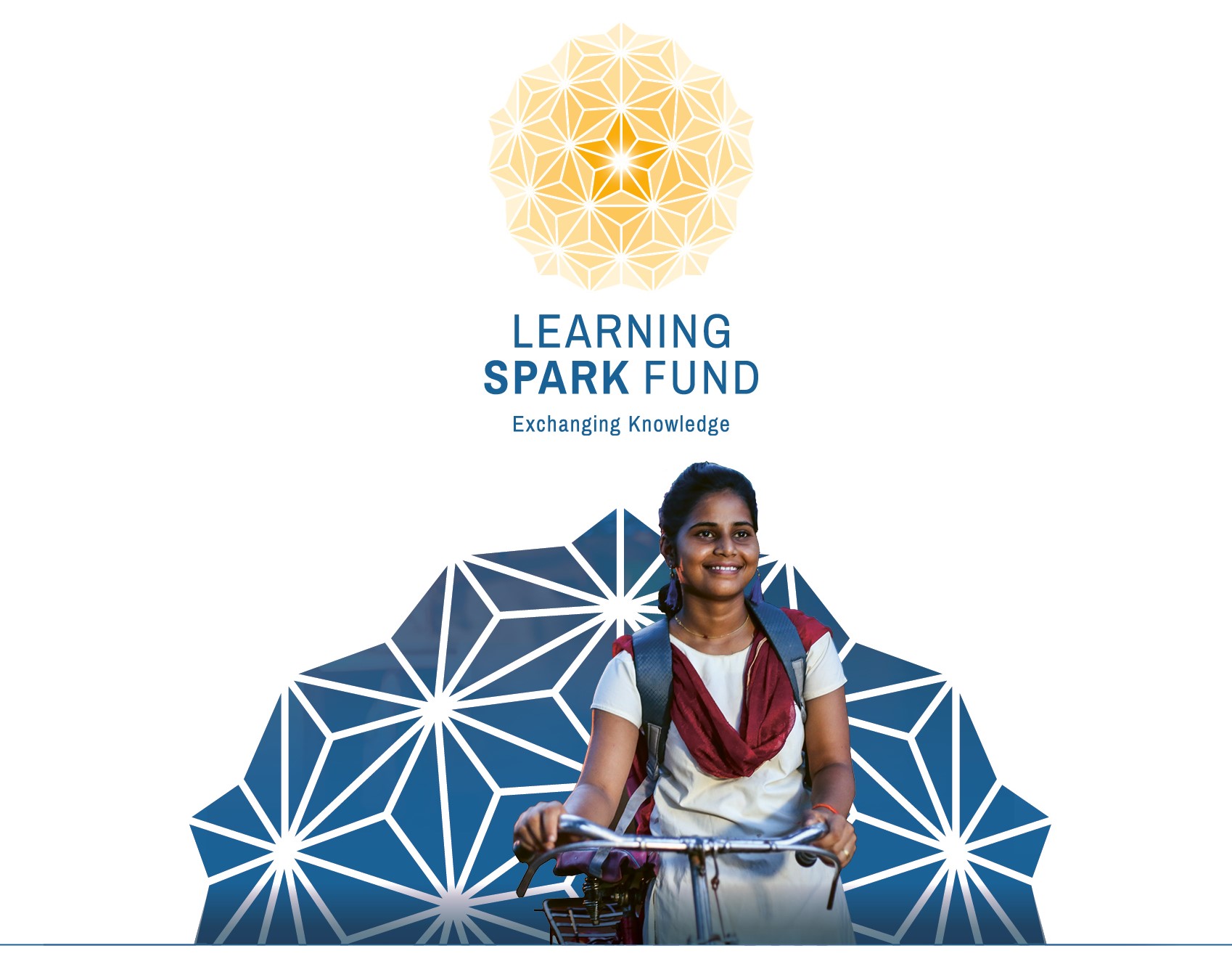 The second window was called Spark, aiming to support local and national exchanges that had one group of learners. These exchanges involved people in one country and revolved around one central learning exchange theme by engaging a variety of stakeholders. The Spark grants' objective was to enable practitioners to stop and reflect on their practices and by that generate knowledge that will help them implement better programmes in the future.
The third grant window called Fireworks supported multi-regional (within a country) or multi-country initiatives. These exchanges involved 3 groups of learners, and once a spark was created, they overlapped with each other to further the learning across regional and national borders, resulting in more sharing, listening, and knowledge co-creation. Three major collaborators together designed a "Spark" exchange that each of them carried out in their country or region. Then they came together for a "Fireworks" exchange to share what they learned in their Sparks, for an additional and geographically larger layer of sharing, listening, co-creating, elevating, and leveraging.
Benefits
The benefits of the LEF include broad stakeholder engagement including community and government members, the capture of tacit knowledge that is typically not captured in evaluation processes, the opportunity to address grant holder interests in intra-country exchanges and the opportunity for learning exchange ideas to emerge from the ground driven by practitioners, community priorities, and interests.
Limitations
The limitations of the LEF include a bias toward "research" and "teaching" rather than joint learning and exchange among grant holders and the ability to capture diverse voices but not distinguish between them – to highlight perspective – that is "who said what". Additionally, COVID-19 travel restrictions did not make it possible for international face-to-face exchanges as originally planned when the LEF was conceptualized. The resulting bias favoured national exchanges – face-to-face, online and hybrid combinations – depriving the intention of greater international exchanges and cross-fertilization.
A careful read of the grant applications generated the following SWOT analysis of the learning exchange methodology.
Strengths
Weaknesses

Can surface points of dissent/challenges

Offers texture and nuance to a topic or issue

Offers space for practitioners to reflect on and probe their own practice

Offers a chance for peer to peer discussions

Offers a chance for multi-stakeholder discussions

Can catch many voices & perspectives

Does not disaggregate voices – tell us who said what

 

Time pressures 

Readiness for relevant methods – is various

Opportunities
Threats

To treat as formative research for larger studies                          

To complement other research methods

New knowledge has the potential to improve as well as challenge                                                                                                        

The legitimacy of learning exchange can be comprised by inviting "same old"/preferred stakeholders  -questions quality
Learning 
Key lessons on learning exchanges from the Spark Fund include
The iterative nature of design and planning; the need to provide a level of efforts and time to support and backstop on learning and learning exchange methods in various format – online and face to face

The surprising adaptability of contracting methods to work with small grants

The value-added of engaging grant holders "face to face" in a discussion on their learning exchange rather than through written documentation.