How Does Pregnancy Influence Child Marriage?
Child marriage as a response to the perceived risk of pre-marital pregnancy
In many contexts where child marriage is common, pre-marital sex is highly stigmatised, especially for adolescent girls. Furthermore, marriage is viewed as a protective factor against the perceived risk of unmarried girls engaging in sexual activity or becoming pregnant, bringing shame and potentially financial insecurity to themselves and their families.
In settings with high levels of child marriage, the More Than Brides Alliance (MTBA) learning initiative notes that girls are frequently considered to be marriageable once they reach puberty. Physical maturation occurring during puberty is understood as marking the beginning of a girl's transition into adulthood.
Insights from MTBA qualitative research with adolescent girls, their parents, and the study implementors
Here, our parents are afraid that the girl will get pregnant while at home. When she starts her period and they notice changes in her behaviour, even if she is still in school, they take her out and give her away in marriage.

− Married Girl, Mali
There is a strong attitude against pre-marital sex. So, parents may fear that their daughter might engage in pre-marital sexual relations and force them to marry to avoid this.

− Programme Implementer, Ethiopia

Figure 1: Perceived risk of pregnancy may lead to child marriage
For adolescent girls—no matter whether they have had a romantic relationship or sexual partner(s) or not—the real or perceived risk of pregnancy may lead to child marriage once girls are physically able to conceive and are thus considered by others in the community to be eligible for marriage.
Figure 1 (below) illustrates this pathway where the risk of a highly stigmatised and, in some cases, unlawful pregnancy mediates the connection between a girl's perceived eligibility for marriage and the marriage itself. Here, marriage precedes pregnancy, and adolescent pregnancy is a secondary outcome to child marriage.
Pre-marital pregnancy as a driver of child marriage
While in many settings, the risk of a possible pre-marital pregnancy serves to accelerate marriage and childbearing for girls, this pattern is not universal. Figure 2 (below) shows data from the most recently available Demographic and Health Surveys on the proportion of women aged 20-24 who report having had sex by age 18 (orange) and the proportion who report having been married by age 18 (blue) for the countries included in the MTBA learning initiative. These indicators demonstrate significant variation in the prevalence of pre-marital sex and pregnancy across locations. While these data only show associations, they still suggest distinct pathways by which pregnancy can lead to child marriage.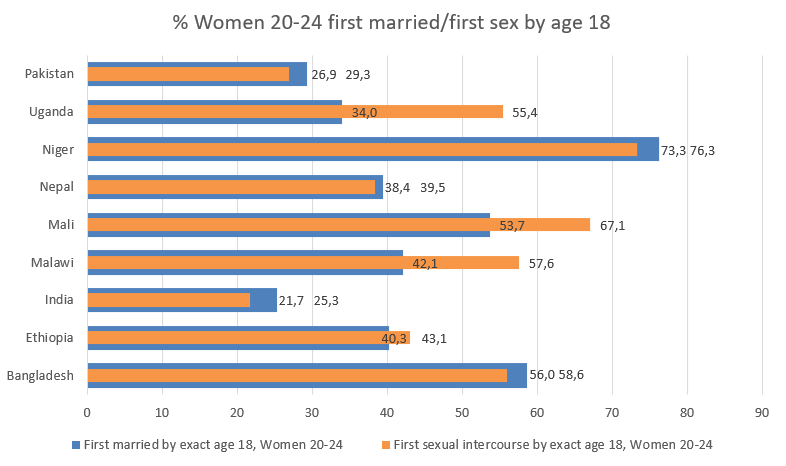 Figure 2: % Women 20-24 first married/ first sex by age 18
● Social norms that stigmatise the children born out of wedlock, their mothers, and their mother's families; or
● Expectations that the men or boys who impregnate a partner out of wedlock will take responsibility by marrying the girl and financially supporting her and their child; or
● Adolescent girls' desire to exert agency in their selection of a husband; or
● Adolescent girls' desire to demonstrate their womanhood through childbearing.

Figure 3: Premarital pregnancy may lead to child marriage
In countries that hold such norms, pregnancy acts as a mediator on the causal pathway between an adolescent girl's romantic relationship and child marriage (see Figure 3). This holds true for unmarried girls who become pregnant outside of a romantic relationship. In some contexts, transactional sex—which describes behaviours ranging from the exchange of sex for gifts within relationships to formalised sex work—leads to pre-marital pregnancy, and consequently, marriage. Where women and girls have little access to educational or income-generating opportunities, marriage may be the only option for women to secure their livelihoods. And, Pregnancy accelerates this need for girls to marry to ensure that their child is born and financially supported within marriage.
Some impregnate each other while they are dating. And that is rampant here, and most of the early marriages are caused by that. When they impregnate each other, then they get married. Young people marry each other because of dating.

− Key Informant, Malawi
Here in the project area, pre-marital sexual relationships among the tribal population in identified
couples are socially accepted. But the couple starts a sexual relationship at an adolescent age,
between 15-17 years, without proper knowledge of SRH and its related services, which is a problem
to be addressed in the project. And further, in most families, it is commonly thought that marriage
is a permanent solution for achieving girls' safety.
− Programme Implementer, India

Teenage pregnancy [is] associated with readiness for marriage. Girls who fall pregnant are forced
into marriage with the man responsible for the pregnancy even if they are not ready or it's against
their will.

− Programme Implementer, Uganda

Most girls, as young as 13 years, engage in prostitution with older men who frequent drinking
places in trading centres. Girls engage in the practice mainly to meet basic needs. As evening
approaches, one starts to notice long queues of girls around lodges or drinking places waiting for
male customers. In such processes, girls find themselves pregnant, and some are forced into child
marriages.
− Programme Implementer, Malawi
Learn more: Connections between pre-marital pregnancy and child marriage
Check out the related articles in which we examine differences in patterns of pregnancy, childbearing, and child marriage, as well as social attitudes, causes, and consequences related to pre-marital sex and pregnancy across various settings. These articles examine key challenges and barriers
to addressing the dynamics surrounding pre-marital sex and pregnancy during adolescence. Furthermore, these materials identify promising strategies for interventions working to delay pregnancy and marriage for adolescent girls.