Introduction
Based on the insights from girls, program practitioners, and existing research, this page provides recommendations on how sexuality-related drivers of child marriage can be addressed in practice. Find recommendations on how sexuality-related drivers of child marriage can be addressed in practice on this page, based on the insights from girls, program practitioners, and existing research.
Key strategies to adress sexuality in child marriage
Girl empowerment, mobilizing families and communities, providing services, and establishing and implementing laws and policies are four categories that Girls Not Brides. We move beyond these four key strategies, and also provide general recommendations to improve how  child marriage programmes organize and collaborate to effectively address sexuality-related drivers. Although child marriage programmes are context-specific, find key recommendations on how to address sexuality in your programmes below!
Empower girls
For girls to refuse child marriage, they must 'own' their rights and be able to craft their own alternative life plans. Using a girls' empowerment strategy you can strengthen girls' agency, provide them with opportunities to build skills and knowledge, help them understand and exercise their sexual and reproductive health rights (SRHR), and expand their support networks.
Recommendations
Mobilize families & communities
In many communities, social and gender norms, aimed at controlling girls' sexuality, drive child marriages. Engaging families and communities to address these deep-rooted values and traditions is a key strategy to improve your child marriage programme(s).
Recommendations
Provide services
Several structural barriers exist that stand in the way for girls to make decisions about their lives, one of which is their access to key services. Services can include enhancing access to quality education, healthcare, or child protection mechanisms. For example, the unavailability of reproductive health services and information can increase the risk that girls' face for early or unwanted pregnancy and marriage.  By providing services and advocating for service provision through your child marriage programme you can support reducing child marriages and addressing underlying gender and sexuality norms.
Recommendations
Working with young people to promote youth-friendly services is key in bolstering their access to healthcare. Adolescents and young people often lack access to quality SRHR information, and services, including contraceptives, while health service providers often lack trained, adolescent-competent staff, and do not offer adolescent-friendly services. Services are either lacking in privacy and confidentiality, do not offer a comprehensive package of SRHR services or service delivery points may be limited. To tackle this, you can advocate for adolescent-responsive health system approach  through your programme and in doing so, align -with the global movement to advance Universal Health Coverage and the WHO guidance on ASRHR.
Establishment & support of laws
Many countries lack robust legislative frameworks which can help to prevent child marriage and support married girls.
Recommendations
A robust legislative framework can provide an important backdrop for improvements in services, changes in social norms, and girls empowerment. It is important to acknowledge that, although child marriage laws and legislation provide a legal framework, they may push child marriages underground or reinforce existing gender inequalities. However, the establishment and implementation of laws will not automatically change gender inequitable social norms around sexuality A key point to note is that laws should not just focus on the age of marriage, but also focus on ensuring girls' sexual and reproductive health and rights. This qualitative research conducted by our partner Population Council, highlights these unintended consequences of child marriage laws.
Advocating for this and acknowledging that laws alone aren't enough and should be enacted alongside other strategies can help you to make your efforts to address child marriage issues more impactful.
Organizing & collaboration child marriage programs that address sexuality
Addressing sexuality in child marriage programmes requires strong internal organisation, such as capacity-strengthening workforces, and collaborative efforts to be effective and impactful
Recommendations
As you design, roll out and evaluate your efforts it is important to see how existing structures can support your goals to address child marriage issues. Existing structures may include:  committees, health service providers, education structures, child protection structures, youth groups, and other influential structures. The structures can help improve your programmes by tapping into and acknowledging communities and familiar organizations that community members and girls' trust.  Another benefit to this, is that by working with different actors within these structures, you can make the most of the interlinkages and foster a stronger collaboration to tackle issues from different angles.
Drivers of child marriage, including those related to gender inequality and girls' sexuality, are context-specific. Thus, when following the project cycle in your own work, take the steps visualized below to REFLECT, PLAN, ACT, and LEARN. Doing so can ensuring that sexuality-related drivers are addressed in your programme to help end child marriage.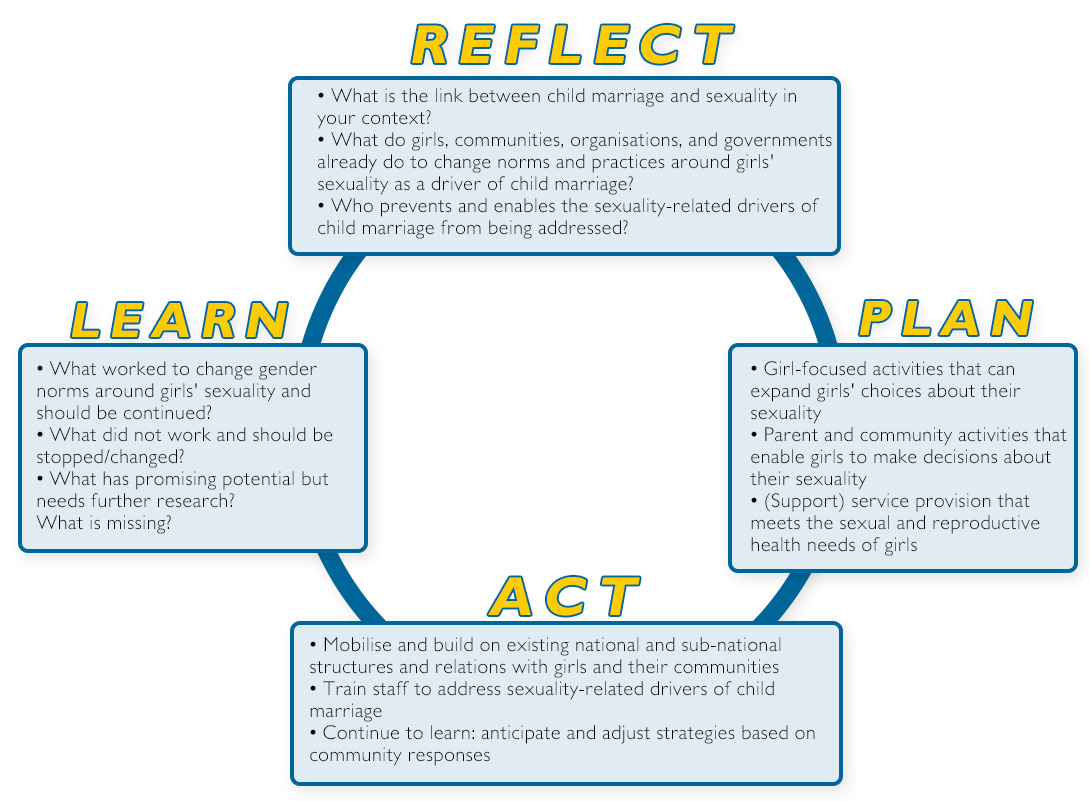 Young people can be powerful catalyst for the change they want to see. In your work addressing their rights and needs, you need to acknowledge their right to participate  and engage them meaningfully in your work. Furthermore, it is important to involve them in broader programmatic efforts and advocacy efforts towards policymaking. Girls, adolescents, and youth should be driving actors throughout the programme cycle, including in the programme design, development, implementation, and monitoring and evaluation. Adolescents led- and informed advocacy is a right and critical for systemic shifts to positively affect all adolescents. Quality youth participation should be transparent, voluntary, youth-friendly, , relevant, respectful, inclusive, safe, accountable,  and  supported by trained adults. An example of a youth-led process and how this can benefit both youth and the your programme(s), can be read in this booklet about our learning project's youth-led research experience.
Preferred Program Strategies by Practitioners
Using the main domains from Girls Not Brides as response categories, we asked practitioners, "From your perspective, what is the most effective strategy for addressing issues related to sexuality and child marriage in your country?" We find that empowering girls was most frequently chosen as the most effective strategy across countries, followed by mobilizing families and communities. See the graph below for more details.